Telgeoot Level 2 Electric Vehicle AC Charging Station - WiFi Enabled
Sale price
$349.00
Regular price
$599.00
Telgeoot Level 2 Electric Vehicle AC Charging Station - WiFi Enabled
Sale price
$349.00
Regular price
$599.00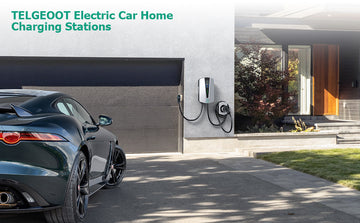 Telgeoot Charging Station
· Up to 44 mi of range added per hour at 11 kW / 48 amp output
· Auto-sensing handle to open charge port
· Monitor and manage your charging schedule and usage from the Tesla app
· Wi-Fi connectivity for over-the-air updates, remote diagnostics and access controls
· Versatile indoor / outdoor design
· Variable amperage configurations depending on installation location
· Power-share with up to six Wall Connectors
· 19.6-foot cable length
· One-year warranty for residential use
· Easy installation for hassle-free setup
Smart APP Control
You can search "Smart life" by Apple store or Google Store, Was able to utilize mobile app to set up charging schedule, and allows you to set your cost per KWH so you can see exactly what you are paying to charger.

The ev charger will generate a Wi-Fi signal and use your smartphone to connect it, then you can connect the Telgeoot ev charger to your home network, view the device status in real-time.Using the app, it is very easy to start and stop charging, adjust the power level, etc.
Compatible with All EV in The US
Compatible with all electric vehicles in the United States, including Tesla (Tesla electric vehicles require an adapter), Jeep, Chevrolet, Volvo, Audi, Ford, Honda, etc.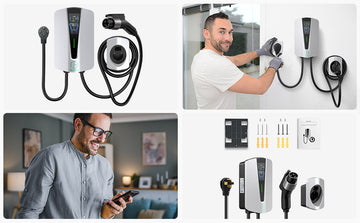 UL Listed - Ultra-Low Electricity Rates
Charging stations are authorized to display the UL Mark, has been equipped with multiple safety protections, Over Voltage protection, Overload protection, Short Circuit protection, Ground protection, Earth Leakage protection. This charging unit can operate in environments of -30℃ to 55℃ (-22°F to 131°F). The connector operating life is up to 10000 times. Allows to adjust charging current range from 1 to 48A, level 2 EV 240V 11kw home charger can work 7X faster than a normal Level 1 chargers, Say goodbye to long charging times.
Moisture-Proof and Cold-Proof
The IP65 TYPE 4 waterproof case and solid 20ft cable, make it suitable for indoor and outdoor application. Rain or shine, our charging piles are built to keep your charging experience seamless. The moisture-proof technology guarantees that water won't interfere with the charging process, providing peace of mind in any weather condition. Additionally, our cold-proof feature ensures that our charging piles operate efficiently, even in frigid temperatures.